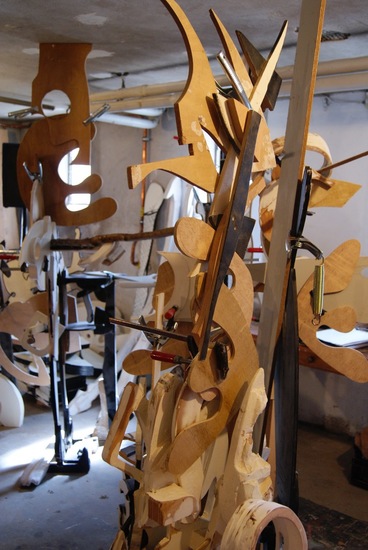 220 x 300 x 300 cm, © 2016, € 50,00
Ruimtelijk | Installaties
Installation: Metal, Found Objects, Wood, Woodcut and Manipulated on Wood, Iron and Cardboard. This work is inspired by many artists; Jason Rhoades, Thomas Hirschhorn, Aaron Curry, Picasso, Jon Pylypchuk, Basquiat, de Kooning, David Bade and many others. But after all, through all the years, I found my own way. This is more a conceptual thing. Changing, a never ending story. Life or work, or do both. Anyway with love. You can rebuilt this installation, but it will turn out to become totally different every time. Some parts are scrwed and glued together, other parts are just loose, on its own.You can make a sketch how you made it the last time, or a vdeo. But to rebuilt the old one is difficult, it's just like making a car. The joy is to make something, construct and building. Make something else. Something that wil be nice for the eye from all angels, like a sculpture. On the other hand it is also a site specific art work. Temporary. For a a exhibition period.